開啟主要內容
Delivery and expression systems for anti-viral therapeutic molecules
領域

Therapeutic Biologics
Patent

IP00775
Background and Market Opportunity
Seasonal influenza virus annually causes over 3–5 million cases of severe illness with about 0.25 million deaths globally.

Limited efficacy of current antivirals and antiviral-resistant mutations impairs

anti-influenza

treatment.

Use of Defective interfering genes (DIG) is a promising strategy to treat influenza as it

neither

generates new

reassortants

nor neutralizes antibodies.

However, the use of DIGs is dependent

on

safe

and

efficient delivery

to the cells at the site of

infection

.

One of the promising delivery vector systems for DIGs are peptides. Peptides have established their role as delivery vectors in humans due to their low

toxicity and

absence

of toxic

metabolites.

According to the Acute Markets report, the global influenza therapeutics market will swell to $1.2 billion by 2025, from $600 million in 2016.
Technology Overview and Key Advantages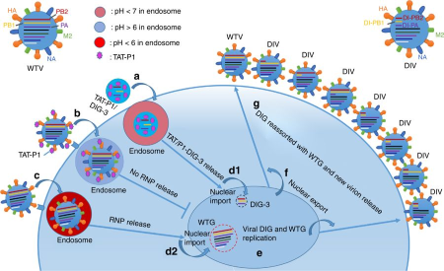 A

dual-functional system with both gene delivery and antiviral ability in vivo.

This system includes DIG-3, which

outcompetes full-length viral genes and generates

DIV, along with a

dual-functional peptide vector consists of two components, HIV-1 Tat (TAT) and P1 peptide

.

This dual function peptide vector, TAT-P1, efficiently

delivers DIG-3 to inhibit viral replication and also directly inhibits viral replication by preventing endosomal

acidification.

TAT-P1/DIG-3 interferes

with the replication of

diverse

subtypes of influenza virus at two steps within one life cycle of

virus, as shown in Fig. 1.
Advantages
Broad

antiviral activity with a low likelihood of inducing antiviral

resistance.

Protect

from lethal virus

challenge

TAT-P1/DIG-3 conferred significantly better mouse survival than that of

zanamivir

.
Potential Product and Applications
Transfection

vectors

with wide

applications in gene antiviral strategies

for

treating viral respiratory

diseases.

Treatment

of avian and seasonal influenza virus

infections.
Development Status and IP Strength
US Provisional Application No.

62/668,872

filed on

09 May, 2018