開啟主要內容
Method and Usage of Immune Potent iMSCs From Human Derived Mesenchymal Stem Cells
領域

Therapeutic Biologics
Patent

IP00817
Key Problem and Market Opportunity
Mesenchymal stem cells (MSCs) are capable of multilineage differentiation into mesoderm-type cells and they are under investigation for applications in cardiac, renal, neural, joint and bone repair, as well as in inflammatory conditions due to the immune-modulatory properties. However, the senescence and low proliferation capacity significantly limited the useful and applicability of the MSCs.
The global mesenchymal stem cells market size in 2021 is USD 2.7 billion and is expected to reach USD 6.1 billion by 2028. The market is expected to expand at a CAGR of 12.6% from 2021 to 2028.
Key Advantages of the Technology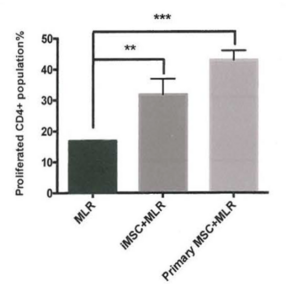 In order to tackle this problem, HKU research team invented a new methodology to reprogram human primary MSCs into induced pluripotent stem cells (iPSCs) and then further induced into iMSCs. This can solve the problem of senescence and low proliferation capacity of MSCs.
Benefits
These iMSCs has been characterized as primary MSCs by flow cytometry with its surface specific markers. Compared to the iPSCs from the other origin sources (fibroblasts and PBMCs), iMSCs of iPSCs from hMSCs presented the best similarity to primary MSCs in both gene expression level and surface markers identifications.
The iMSCs are also tested as functional as primary MSCs in both in vivo and in vitro. iMSCs enhanced T helper lymphocytes (CD4+) population and played immunosuppression effect on mixed lymphocytes reaction.
Supernatant of the iMSCs also demonstrate the immunomodulation activities in a multiple sclerosis mouse model which enhanced the experimental autoimmune encephalomyelitis (EAE) mouse recovery.
Potential Product and Services
Manufacturing method to produce iMSCs as research tools and pharmaceutical application.
Development Status and IP Strength
Patents
CN, US and HK regular patent application
IP Status
Patent application submitted