Start main content
HKU RAISe+ Funding Support Briefing Session (26 Sep)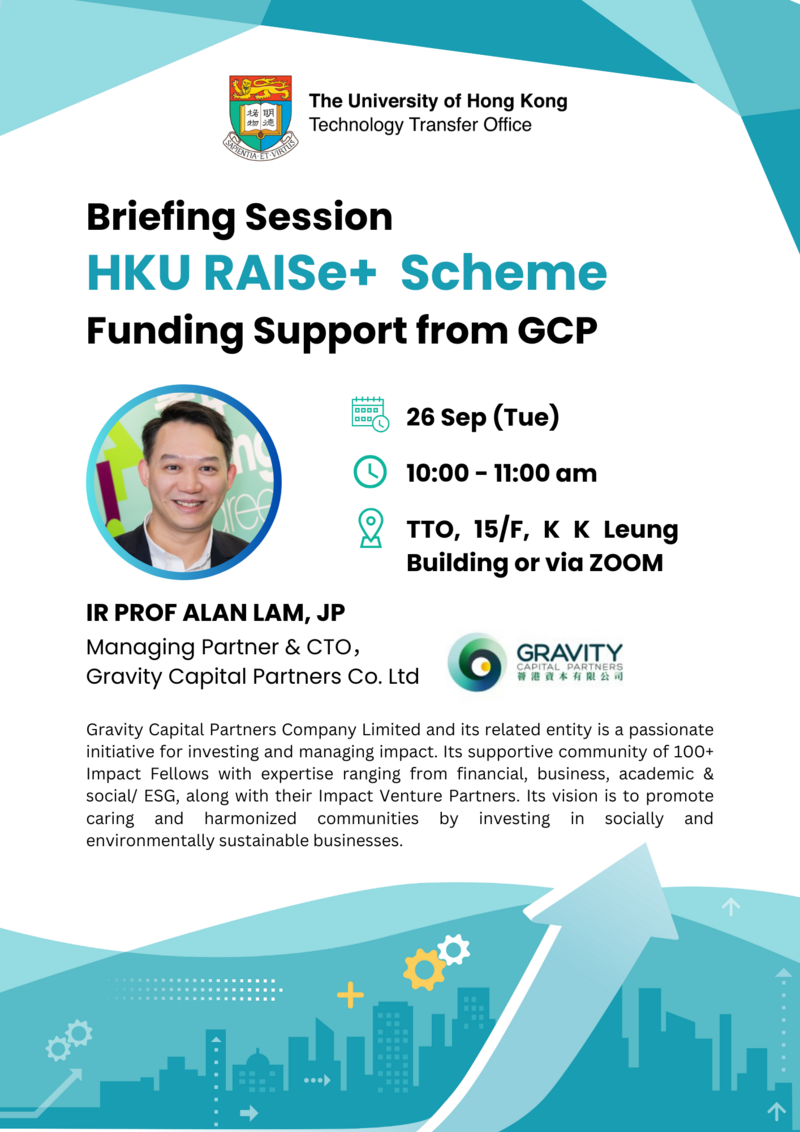 Date: 26 Sep (Tue)
Time: 10:00 - 11:00am (HKT)
Venue: TTO, 15/F, K K Leung Building or via ZOOM
Register: https://hkuems1.hku.hk/hkuems/ec_hdetail.aspx?guest=Y&ueid=90570 (pre-register is required)
Speaker: Ir Prof Alan Lam, JP, Managing Partner & CTO, Gravity Capital Partners Limited (薈港資本有限公司)
About RAISe+ Scheme
The RAISe+ Scheme, part of the Innovation and Technology Fund (ITF), offers funding support to eight designated UGC-funded universities in order to help their research teams transform, realize, and commercialize their R&D outcomes. The scheme is divided into two stages, with the first stage focusing on transforming and realizing R&D outcomes within three years, and the second stage concerning the commercialization of R&D outcomes within the remaining timeframe.
About Ir Prof Alan Lam, JP
Dr Alan Lam is one of the awardees of Ten Outstanding Young People in Hong Kong in 2015 (industry and business). Dr Alan Lam has been engaged in scientific research and information technology research and development since 1996 and has been actively participating in various professional and public services. He founded Sengital Limited in 2004. Over the years, he obtained dozens of innovation and technology awards and related patents. He is actively serving the industry and community including the Board of Directors of ASTRI for six years, and he is currently the Chairman of LSCM.
About Gravity Capital Partners Limited
Gravity Capital Partners Company Limited and its related entity is a passionate initiative for investing and managing impact. Its supportive community of 100+ Impact Fellows with expertise ranging from financial, business, academic & social/ ESG, along with their Impact Venture Partners. Its vision is to promote caring and harmonized communities by investing in socially and environmentally sustainable businesses.
Previous Event
Venture Building and University Spin-off Case Studies (18 Oct)
18 Oct 2023
Next Event
HKU Industry Forum 2023 - New Energy & New Materials
23 Aug 2023
E-Newsletter
Get the latest technology and news from us
If you do not wish to receive emails from us in the future, you can send an unsubscribe request to us by email to info@tto.hku.hk.