Start main content
Venture Building and University Spin-off Case Studies (18 Oct)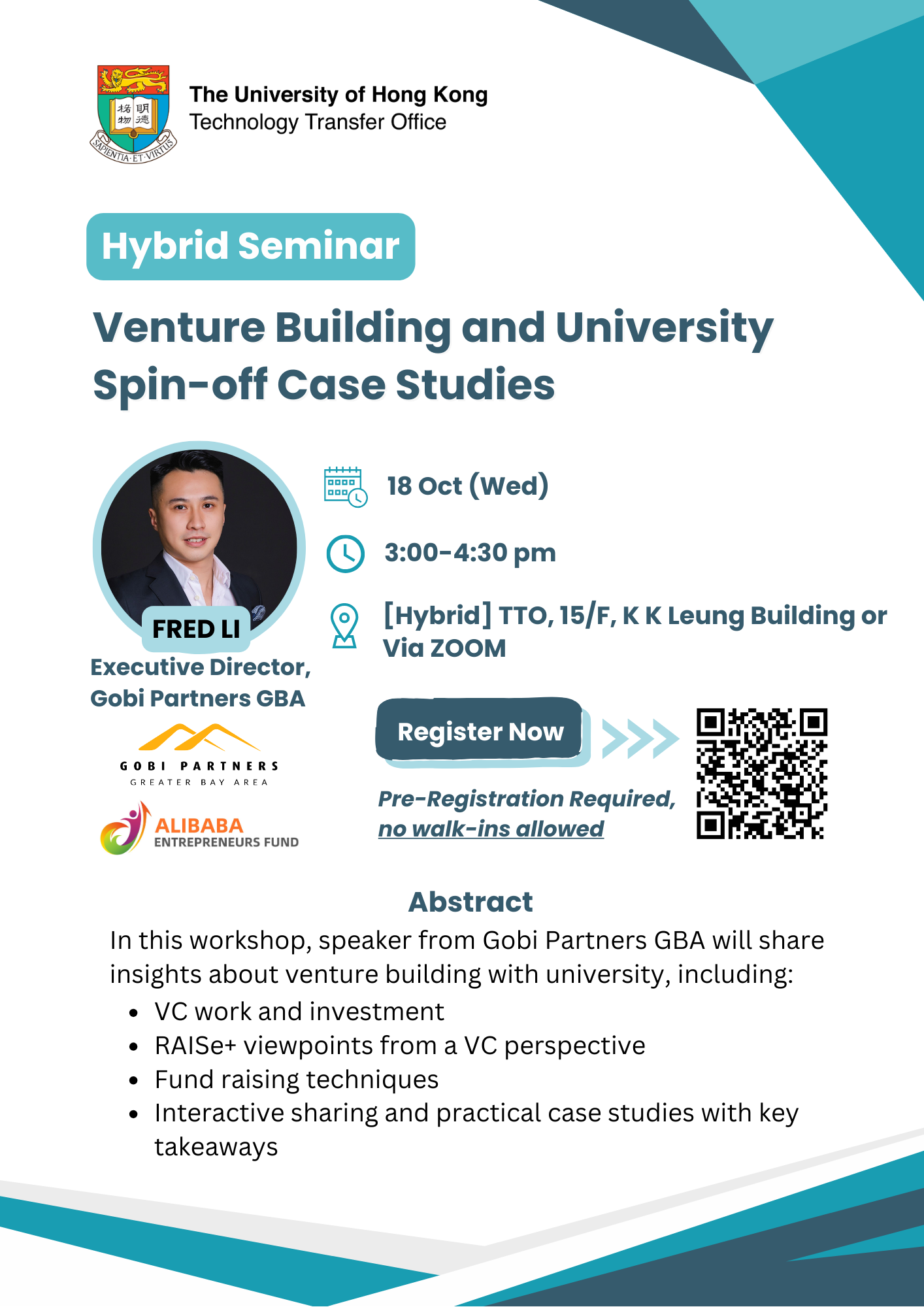 Date: 18 Oct (Wed)
Time: 3:00 to 4:30 pm
Venue: (Hybrid) TTO, 15/F, K K Leung Building or Via ZOOM
Register: Pre-Registration Required, no walk-ins allowed
Register NOW (register link will be sent to the registered email a few days before the event day)
Abstract
In this workshop, a speaker from Gobi Partners GBA will share insights about venture building with the university, including:
· VC work and investment
· RAISe+ viewpoints from a VC perspective
· Fund-raising techniques
· Interactive sharing and practical case studies with key takeaways


About the Speaker
Fred Li, Executive Director, Gobi Partners GBA. Fred is a graduate of The University of Hong Kong where he received his Bachelor of Business Administration in Accounting and Finance, and is a HKICPA Certified Public Accountant (CPA) and Certified ESG Analyst (CESGA). Prior to joining Gobi Partners, he began his career as an Associate at Deloitte Financial Advisory Services. Following his role at Deloitte, he has held positions at VC and PE firms such as Senior Associate at Ocean Equity Partners, Vice President at ARIA Funds of CLSA Capital Partners and Executive Director at Hywin International. He also had experience in business management and served as Group General Manager at Gaia Group. Throughout his roles, Fred has accumulated experience across technology and consumer sectors with a focus in areas such as healthcare technology, SaaS solutions, e-commerce, digitization of consumer brands, and more.
Next Event
HKU RAISe+ Funding Support Briefing Session (26 Sep)
26 Sep 2023
E-Newsletter
Get the latest technology and news from us
If you do not wish to receive emails from us in the future, you can send an unsubscribe request to us by email to info@tto.hku.hk.