Start main content
Photo-Responsive Carrier for Hydrophobic Small Molecule Delivery at Target Site
Field

Drug Delivery
Patent

IP00900
Key Problem and Market Opportunity
Retinoblastoma is a severe eye cancer of infancy and childhood and can cause blindness or even death.
Currently, the invasive intravitreal drug administration used in clinics is unpleasant for patients and can lead to side effects such as ocular haemorrhage, endophthalmitis and retinal detachment, etc.
Thus, effective drug administration routes in a less invasive manner are desirable for the treatment of retinoblastoma.
Key Advantages of the Technology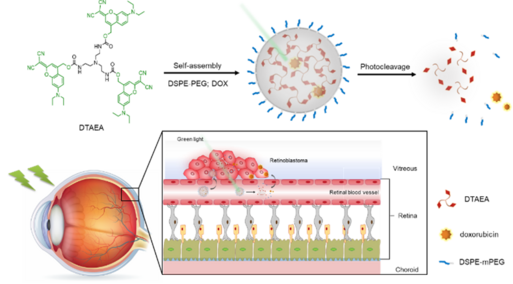 Underlying Mechanism
Three-legged small molecules are the main building blocks of the nanocarriers.
The cleavage of the three-legged molecules upon light irradiation can quickly lead to the breakdown of the nanocarriers, resulting in the rapid release of the drugs only at the irradiated sites.
Benefits
On-demand drug delivery to achieve a less invasive and more efficient treatment
Metal free
Platform technology for delivering different drugs
Potential Product and Services
Target drug delivery system for eye or skin diseases
Development Status and IP Strength
Patents
PCT Application No. PCT/CN2021/081262
IP Status
Patent application submitted