Start main content
Non-intrusive Power Measurement Method and System for Smart Meters
Field

Electronics
Patent

IP00605
Key Problem and Market Opportunity
Smart meters are electronic products that record electric power consumption and communicate that information to the utility for monitoring and billing as well as to the consumers who can monitor their domestic power consumption.
For low-cost implementation, a magnetoresistance sensors or magnetic flux sensor can be arranged on a thin-circuit board and placed on the top surface of the circuit breaker panel for power measurement. However, the power estimation by these magnetic flux sensor is inaccurate due to incorrect phase detection.
The global smart meter market was valued US$4B in 2012 according to a report by USITC.
Key Advantages of the Technology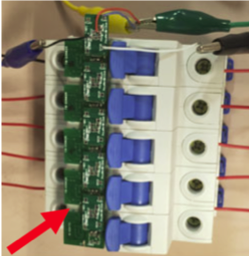 An implementation of nonintrusive smart power meter with more accurate power estimation.
The tested power estimations within an error tolerance of about 6%. (Typical error tolerance is 20%)
Low-cost and simple-to-install solution
The power information can be transferred to the consumer and to the utilities through a wireless communication system if necessary
Current

Practical currents in the current paths/A

Estimated results without mutual coupling cancellation/A
(Control)
Estimated results with mutual coupling
cancellation/A
(This invention)
I1
-3
-1.38 (+54%)
-2.99 (+0.3%)
I2
3
-0.54 (-118%)
2.89 (-3.6%)
I3
-3
-0.75 (+75%)
-2.82 (+6%)
I4
3
-0.96 (-132%)
2.77 (-7%)
I5
-3
-1.94 (+35%)
-3.02 (-0.6%)
Potential Product and Services

Nonintrusive smart power meter.
Development Status and IP Strength
PCT Application No. PCT/CN2016/075444
Device prototype is available in laboratory scale