Start main content
Endosomal Acidification Inhibitors for Influenza Virus and Coronavirus Treatment
Field

Therapeutic Biologics
Patent

IP01012
Key Problem and Market Opportunity
Influenza viruses and SARS-CoV-2 which lead to seasonal outbreaks and a pandemic respectively have consistently overwhelmed healthcare institutions. The emergence of drug resistant viruses in patients while on treatment with specific anti-influenza drugs has fueled the development of alternative therapeutic strategies. The challenge is to identify a therapy which could inhibit the viral replication while preventing the generation of drug resistant viral variants upon intervention.
According to Global data, the therapeutic drugs market for COVID-19 is expected to increase, generating a total sales of $50.9B from 2020 to 2027. As for the global influenza market, it is estimated to reach nearly $6.5 billion by 2022, growing at a compound annual growth rate (CAGR) of 3.0% for the period of 2017 through 2022.
Key Advantages of the Technology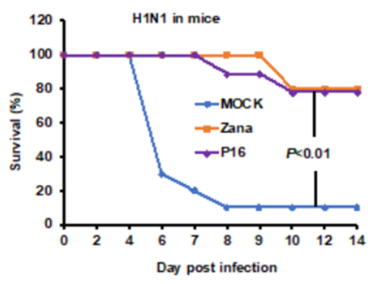 Using endosomal acidification inhibitors (Chloroquine and P16 peptide), the inventors successfully inhibit SARS-CoV-2, SARS-CoV and Influenza virus replication in vivo through intranasal administration when lung cells could be bathed in chloroquine with effective concentration.
Benefits
Increased bio-safety (no significant hemolysis was observed in turkey red blood cells upon treatment)
Significantly inhibit viral replication when the viruses were pretreated before viral infection
Does not induce drug resistant gene in virus upon treatment
Potential Product and Services
Anti-viral therapy for SAR-CoV-2 and Influenza virus
Development Status and IP Strength
Stage of Development
Chloroquine and P16 peptide have been tested in laboratory animals for its efficacy, safety and potency
Patents
US Provisional Application No. 63/150,110
US Provisional Application No. 63/150,141
IP Status
Patent application submitted