Start main content
Combination use of CD47 Antibodies/Inhibitors with Sorafenib for Liver Cancer Treatment
Field

Therapeutic Biologics
Reference No.

IP00589
Key Problem and Market Opportunity
Sorafenib is an FDA-approved drug for treating liver cancer (hepatocellular carcinoma, HCC) but it's survival benefit was found to be modest due to drug resistance. It was then found that tumor-initiating cells (T-IC) were the reason behind the resistance, where CD47 is the most significant.
According to FiercePharma.com, the 2012 sales of Sorafenib was US$1.018B, and is projected to reach US$1.463B in 2018.
Using monoclonal antibody CD47 against cancer has been established, but not the idea of combining it or CD47 inhibitors with sorafenib.
Key Advantages of the Technology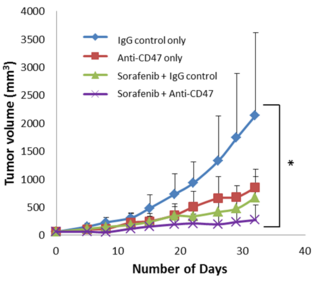 In vitro test on HCC cell lines showed that combination treatment of sorafenib and anti-CD47 antibody (anti-CD47 Ab) results in a greater sensitivity to sorafenib when compared to treatment using sorafenib or anti-CD47 Ab alone.
In vivo test on mice showed that combination treatment of anti-CD47 Ab and sorafenib results in a smaller tumor volume when compared with sole treatment of anti-CD47 Ab or sorafenib. This combination use exerted a synergistic effect, thus maximized suppression of tumors.
When co-treated with anti-CD47 Ab and sorafenib, the level of alpha-fetoprotein (AFP), a liver T-IC marker, had the greatest reduction.
Figure 1: Combined effect of anti-CD47 Ab and sorafenib induced maximal suppression of tumors when compared to the control group.
Journal publication: Hepatology. 2015 Aug;62(2):534-45. doi: 10.1002/hep.27859.
Potential Product and Services
Therapeutic Regimen for HCC
Combination Treatment for HCC
Methods increasing sensitivity of liver cancer cells to sorafenib
Development Status
Patents
Patent application: US Patent application No.14/856,137;
IP Status
Patent application submitted