Start main content
Anti-DKK1 Monoclonal Antibody for Liver Cancer Treatment
Field

Therapeutic Biologics
Reference No.

IP00380
Key Problem and Market Opportunity
Liver cancer (Hepatocellular carcinoma, HCC) is the second leading cause of cancer death in men and ninth in women. There were over 780,000 new cases worldwide with 50% of total accounted in China. (American Cancer Society, 2015)
At present, there are only a few molecular targeted therapies for HCC patients, and anti-DKK1 antibody has not been considered for treating HCC, which may be a potential therapy and additional option for HCC patients.
Data showed that DKK1 enhanced growth of HCC cells in vivo.
Key Advantages of the Technology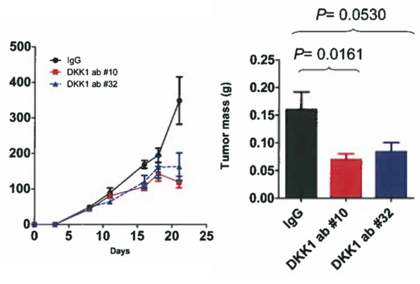 In vitro test on HCC cell lines showed that anti-DKK1 antibody is able to suppress cell migration of HCC cells.
In vivo test on mice demonstrated the suppressive effect of anti-DKK1 monoclonal antibody on the growth of HCC tumor.
Data shows that serum levels of DKK1 could serve as a prognosis of HCC for patients.
Figure 1: Anti-DKK1 antibody was able to inhibit the migration of cell when compared to the control group.
Figure 2: Tumor size and mass in mice decreased when injected with DKK1 antibody, indicating that anti-DKK1 antibody is able to suppress tumor growth.
Potential Product and Services
Anti-DKK1 antibody as treatment for HCC patients
Anti-DKK1 antibody against cancer metastasis in HCC patients
Development Status
Patents
US Patent Application No. 13/361,439;
Chinese Patent No. ZL201280016543.1 issued on 13 Apr 2016;
EP Patent No. 2670435 issued on 23 Aug 2017
IP Status
Patented
Patent application submitted